"Life is a song – sing it. Life is a game – play it. Life is a challenge – meet it. Life is a dream – realise it. Life is a sacrifice – offer it. Life is love – enjoy it."
Sai Baba, spiritual leader and philanthropist
---
Ken McKinnon
FEBRUARY 9, 1938 – OCTOBER 11, 2022
The entire British Columbia amateur football family has lost an icon with the recent passing of Ken McKinnon. CONT
Gerry Parr
MARCH 6, 1947 – JULY 14, 2021
Gerry was involved with many organizations through his coaching career. From the 1986 UBC Vanier Cup Champions to stints at Western Washington, Vancouver Trojans and on the coaching staff at Notre Dame! Gerry was 'old school, the day didn't end until all the prep was done! He approached everything with a sense of humour and made coaching fun, he will be missed.
Bill Vance
Bill was a life long builder and supporter of football in BC. Bill coached Britannia to the 1967 Shrine Bowl where they were co-champions and was a life long member of the Vancouver Merolomas. Bill also could be found "guest" coaching at UBC through the 1970's and 80's. The BCSSFA sends their condolences to the Vance family.
Peter Ohler

DECEMBER 29, 1940 – JUNE 7, 2021
Peter was a coach, mentor and friend to many. He will be deeply missed. The BCSSFA sends their condolences to the Ohler family.
Rich Goulet

Rich was a high school boys basketball coach for more than 50 years, including 39 at Pitt Meadows. Along the way he earned a spot in the Basketball B.C. Hall of Fame and won the Prime Minister's Volunteer award. He also won five provincial championships, including three at Pitt Meadows. The BCSSFA sends their condolences to the Goulet family.
Maple Ridge - Pit Meadows News
Al Cameron
1951 - 2021
Big Al was an outstanding athlete and high-school (Notre Dame), collegiate (U of Colorado / UBC), and professional (CFL) football player. He went on to build houses in Kelowna and pioneer the outdoor furnishing business in Vancouver.
Chris Tompson

1959 - 2021
Chris quarterbacked the 1975 Richmond Colts to an undefeated season and a BCSSFA Provincial Championship over Notre Dame 3-0. Chris went on to play defensive back for the UBC Thunderbirds.
Bob Laycoe
The BCSSFA family is mourning the loss of Bob Laycoe, one of the most accomplished and influential figures throughout the history of UBC varsity athletics.
Dr. Bob Hindmarch
"He was one of those special people who would make you feel good about what you were doing,." — UBC men's basketball coach Kevin Hanson on the late Bob Hindmarch
The Province BC Sports Hall of Fame Vancouver Sun WikiPedia
Michael Torresan
1964 - 2021
It is with deep sadness that we announce the passing of our beloved Michael. After a long and brave fight, Michael lost his battle with non-Hogkins lymphoma on March 2. A grad of Vancouver College and UBC Michael was drafted by the Calgary Stampeders. He will be missed by all those who knew him.
Obituary
Kori Nagata

1996 - 2020
The BC High School Football community mourns the loss of Kory Nagata, who tragically passed away just a few days ago. Our condolences go to the Nagata family, his friends, Hugh Boyd, the Okanagan Sun and UBC Football
The Hugh Boyd Secondary football grad was also a running back for the UBC Thunderbirds before continuing his studies at the Sauder School of Business.
The Province BCTV UBC Football
Raymond Turner
JUNE 29,1956 - June 14, 2020
Ray graduated from John Oliver High School where he played Varsity Football and Basketball for the Jokers. Ray was part of the 1976 and 1978 Vancouver Meraloma Junior Football Championship teams. He also spent many years coaching John Oliver. Jokers football alongside his brother Ron. One of Ray's proudest achievements was winning the Provincial Football Championship in 1992.
He will be sadly missed.
Roy Vollinger

MAY 1, 1942 – JUNE 3, 2020
From Mark Townsend:
It is with heartfelt sympathy and sadness to announce our beloved Coach Roy Vollinger has passed away. What an amazing and proud person Coach Roy was. I feel blessed and privileged to have been known Roy, who became a father figure to me. He had remarkable life and nobody could tell a funny story like Coach Roy. We all know Roy as an iconic football person, especially as a coach, organizer and builder. In 2012, Coach Roy was honoured with the Pioneer Award at the Orange Helmet Awards hosted by the BC Lions. He was a true character and so very generous. Coach Roy, you will be deeply, deeply missed my friend.
Thank you to Michelle Hallschmid and Llynda Vollinger for giving me the opportunity to share some stories and love with Roy at the Jubilee Hospital yesterday. I will forever remember the "thumbs up" Coach Roy gave me just before I left.
Let us please send healing prayers, love and comforting hugs to his wife Llynda.
Samwel Uko
.
January 1, 2000 - May 21, 2020
With extreme sadness, we announce that Samwel Uko passed away recently.
Our hearts, thoughts and prayers go to the Uko family, Abbotsford Senior Secondary School and U of S Huskies Football during this difficult time.
Victor Kristopaitis (Kristo)
September 16, 1935 - January 24, 2020
Vic was the 17th draft pick in the NFL to the 49ers, then went to the Toronto Argonauts until 1958. Vic was a kicker, linebacker and could also play guard. He was known widely as 'Vic the kick' ! When Vic was traded to the BC Lions he met Audrey of Australia and they married in 1961. In the 70's Vic was 'Coach Kristo' to young football players he coached at Vancouver College and also had a BC Lions post game show on NW'98.
Elijah Drasyl
January 11, 2020
It is with a heavy heart that we announce that Elijah Drasyl passed away this past weekend. Our thoughts and condolences go to the Elijah's family, friends and
North Vancouver high schools mourn teen who died in car crash
"He was very connected to both school communities and his loss will certainly affect both schools," Argyle, principal Kim Jonat wrote. "Our hearts go out to the family and friends during this incredibly difficult time."
Steve Gelley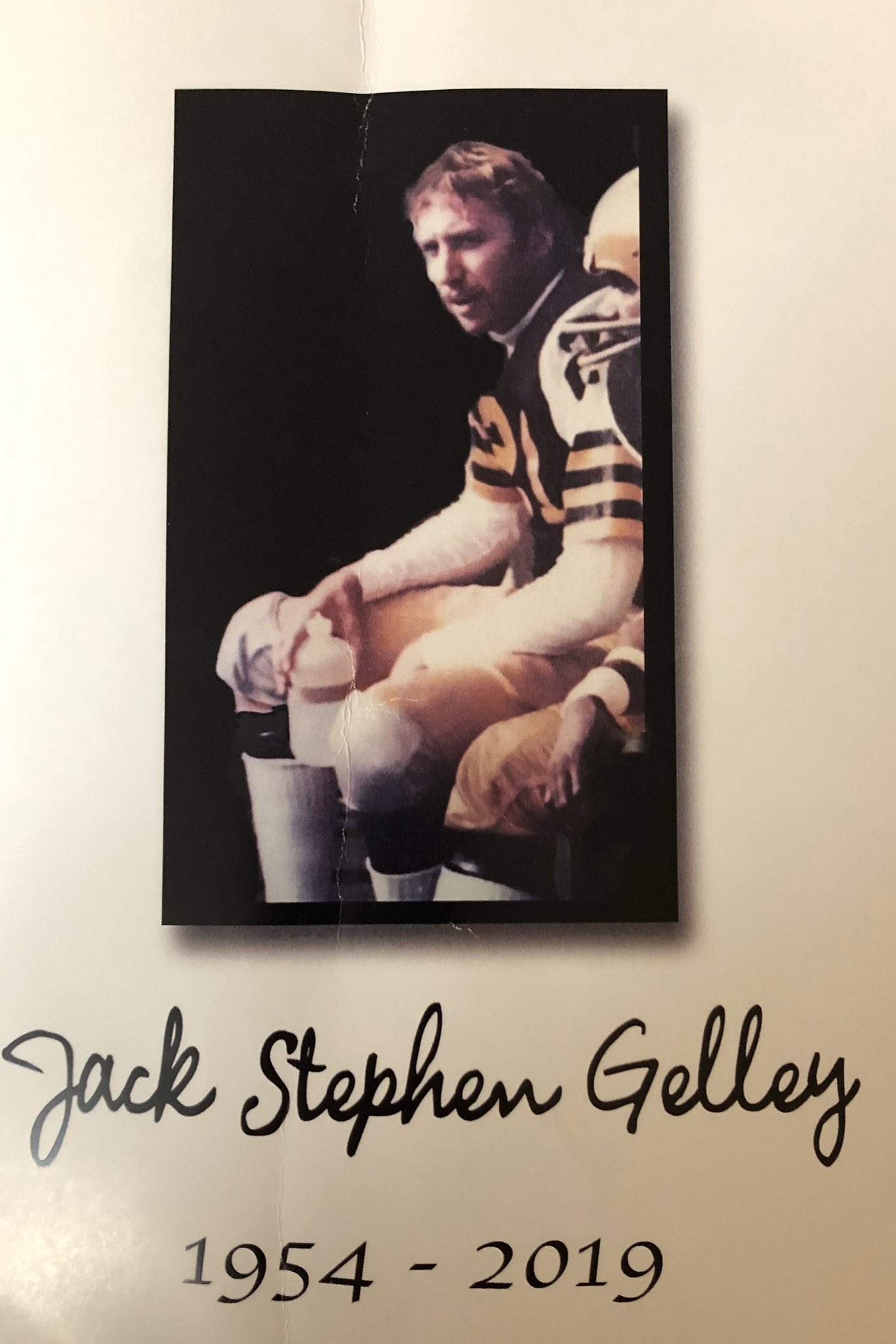 Thoughts from Tom Kudaba
I first met Steve in 1972 at Simon Fraser as a rookie. We were all in the same boat and few of us at that time felt that our class would be arguably the bumper crop of players to wear the SFU colours. Included in this group were players like Lui Passaglia, Glen Jackson, Randy Graham, Greg Warkentin, Emil Nielsen, and myself. Of course as rookies we were under the watchful eye of Lorne Davies (continued)
Gary Conley
July 9, 1945-December 16, 2019
Gary earned a degree at SFU and was an inaugural member of the SFU Football team 1965. He spent his career in the District of Coquitlam as an athlete, student, coach, teacher, administrator and retired as an Assistant Superintendent.
Matt "Major" Phillips
July 29, 1933 - September 22, 2018
Matt played collegiately at Pepperdine College in Los Angeles (where he earned his nickname "Major") before taking his career back home to play for the B.C. Lions in 1957 as an offensive lineman. However, it was his passion for teaching and football where he would make his greatest impact, especially in Richmond where he helped launch programs at Steveston, Cambie and London. In 2016, Phillips was inducted into the B.C. Football Hall of Fame as a builder, along with the Richmond Sports Wall of Fame. He also was recognized for his 30-plus years of work as an official and is a past winner of the prestigious B.C. School Sports Honour Award.
Bernie Kully
July 30,1976 - Sept. 30, 2017
Bernie's passion was football. He started playing in grade 8 at STMC and continued on at SFU. After Bernie graduated, he joined the STMC staff where he was a teacher, academic councilor and football coach for the past 17 years. Bernie cared about all his students and brought a dedication, commitment, determination and humor to all aspects of his life. He was known to be watching countless hours of game film preparing for the next game, even at midnight the night before! He left us much too young and will be remembered forever in our hearts as a loving son, brother, uncle, coach, teacher and friend.
Brian Higgins
1950 - 2017
Brian was a lifetime contributor to football in BC. Coach with South Delta, STM and New Westminster Brian also had a stint at UBC and was a member of the BCSSFA Executive. Brian was the Supervising Lawyer for the Law Students' Legal Advice Program (LSLAP) at UBC Law for 23 years from 1988 to 2011.
Rick Klassen
July 25, 1959 – December 10, 2016
Rick played his high school football at Sardis Secondary! He was drafted as an offensive guard by the Lions in 1981, but was converted to a defensive lineman in his rookie season. He was named the most valuable Canadian of the 1983 Grey Cup, though the Lions lost the title match 18-17 to the Toronto Argonauts. Two years later he got a chance to hoist the iconic trophy when the Lions downed the Hamilton Tiger-Cats 37-24 to take the 1985 Grey Cup. Klassen joined the Saskatchewan Roughriders for the 1988 season before returning to the Lions for the final two years of his career. he announced his retirement after the 1990 season. Over a span of 160 CFL games, Klassen recorded 66 sacks and added another four and a half in two Grey Cup appearances. Klassen was voted a member of the Lions' All-Time Dream Team in 2003 as part of the team's 50th anniversary celebrations. He was inducted into the B.C. Lions Wall of Fame in 2007 as part of the Lions' 1985 Grey Cup team.
Dan Doyle
1928 - 2015
Dan Doyle was a lifelong educator, coach and community builder in Coquitlam. He was a founding member of the Coquitlam Secondary Schools Athletic Association and co-author of the constitution establishing BC School Sports, the governing body of high school competitive sports in the province today. Dan was an inaugural inductee into the Coquitlam Sports Hall of Fame in 2010, and was honoured with a pioneer award at the 2009 Orange Helmet Awards. Dan was also heavily involved with the BCSSFA executive!
Steve Faoro
2014
Steve will be remembered as a larger than life personality! Steve played Coquitlam communty football, junior varsity at Port Moody Junior and Varsity for Pinetree Secondary. He earned BCSSFA Provincial All Star honours. At Acadia he was an all-conference selection at linebacker three straight seasons from 2004-2006, an all-Canadian selection in 2006, and was the AUS defensive player of the year in both 2005 and 2006. After graduating from Acadia, Faoro played in the CFL and in Europe. More recently, the B.C. he played for the Bellingham Bulldogs, a minor pro team in Washington State, close to the Canada - U.S. border, and had also coached.
Bellingham Herald Acadia Athletics
Carey Lapa
November 1, 1959 - January 9, 2011
Carey was a member of the UBC Vanier Cup team and was drafted by the Hamilton Tiger Cats. He was voted to the UBC Top 100 team in 2019. Carey was past president of B.C. Secondary School Football Association as well as coach with the JV and Varsity Terry Fox Ravens.