Local News Links
Prince George Citizen: Big football crown raises Cougars' spirits
Burnaby Now: Injuries KO Knights in battle with No 1 ranked college
New Westminster Record: Hyack rushers cut through rain, Grizzlies in first win of the season
North Shore News: Carson Graham takes on Argyle in senior football (PHOTOS)
ISN: Mount Douglas Varsity Summary
Vernon Morning Star: Roaring start carries Vernon Panthers to victory
North Shore News: High school football kicks off today on the north shore
Delta Optimist: Sun Devils shine in battle of Delta
Twitter: New Westminster Hyacks Homecoming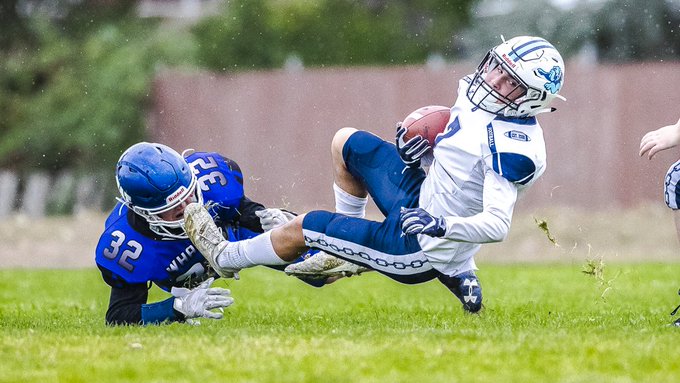 All Sports Media: Shots from Ballenas Belmont
Vernon Morning Star: Vernon Panthers claw past competition
Kelowna Now: Voodoos-Owls eager for football clash on Friday
Burnaby Now: Knights defence the shinning light in opening loss
New Westminster Record: Miscues mark Hyacks opener
Delta Optimist: Unbeaten Dinos roll into UBC with plenty of Sun Devil flavour!
Goldstream News Gazette/Saanich News: Mount Douglas Rams charging ahead into 2019
Cloverdale Reporter: With road win, Cloverdale's Panthers leap into high school football season
Chilliwack Progress/Vernon Morning Star: VSS Panthers outlast Grizzlies 16-8
Tri City News: Centaurs speared by Whalers
Kamloops This Week: AA South Kamloops defeat AAA Mt Boucherie in football action
Delta Optimist: Sun Devils looking right at home at Dennison
ISN: Varsity Rams Start BC High School Football Pre-Season With Loss
The Province: Being preseason top dog means very little to Vancouver College Fighting Irish
BC Sports Hub: Irish on the warpath: Vancouver College has the talent to chase Subway Bowl glory
ISN: JV Belmont Bulldogs Fall to Vancouver College In Exhibition Play
Delta Optimist: McDonald's final chapter
Chilliwack Progress: Will the GW Graham Grizzlies return to the Subway Bowl playoffs in 2019?
Tri City News: Centaurs see light at end of losing tunnel
Burnaby Now: Veterans lead the charge for Knights football season
New Westminster Record: Hyack's duo ready to take leadership role
Varsity Letters: STM's Knights fall at undefeated Honolulu-Damien, but RB Nick Osho cracks century mark, aerial attack shows great promise
Varsity Letters: Aloha, it's time for BC High school football! St. Thomas More Knights kick it off Saturday in Honolulu
Delta Optimist: Sun Devils will make their home at Dennison this season
Kamloops This Week: Training Cam to begin soon for South Kamloops football squads
Kelowna Now: KSS Owl's receiver catches on with Team BC
Kelowna Capital News: Kelowna youth football stars representing team B.C. in national football tournaments
Goldstream News Gazette: Inside the opening of the expanded Westhills Stadium
Varsity Letters Robert Bateman looks to its rising senior Phoenix! Wolves come in at AA No. 5 as countdown to B.C. high school football 2019 begins
Varsity Letters After plenty of heartbreak the hard way, Ballenas' No. 4-ranked AA Whalers ready to make some waves
Varsity Letters Eight B.C. high school football alums picked in 2019 CFL Draft! Coaches agree player development is on the rise
The Abbotsford News: Bateman falls to Vernon in provincial final
Chilliwack Progress: GW Graham grizzlies are provincial champs
The Province: Rams run roughshod over Hyacks for B.C. high school title
Kelowna Now: KSS Owls make history with provincial high school football title win
Burnaby Now: Knights QB caps career as MVP
New Westminster Record: Hyacks unable to stop Rams in final
North Shore News: Windsor Dukes end their surprise playoff run in junior football final
ISN: JV Belmont Bulldogs Undefeated Streak Ends In BC Championship Loss
Delta Optimist: More honours for Sun Devil Grad
Goldstream News Gazette: Belmont Bulldogs heading to football final
The Province: Hyacks, Rams keep trending in right direction, advance to Triple A football finale
Vernon Morning Star: Vernon Panthers play for provincial title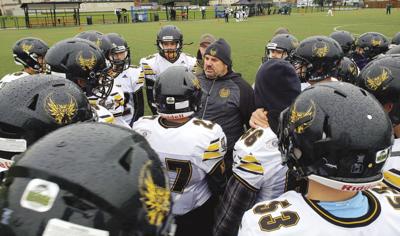 The Daily Courier: JV Owls making history, set to play for B.C. title
Saanich News: Mount Doug advances to football's Subway Bowl provincial final
The Abbotsford News: Bateman advances to provincials
North Delta Reporter: Surrey's Holy Cross Crusaders fall hard in football semifinal at BC Place
Kelowna Now: KSS Owls aiming to be first local high school football team to win B.C. crown
Tri City News: Ravens season ends with a thud
New Westminster Record: Dominating performance lifts Hyacks to B.C. final
BC Sports Hub: The Program: Abby Senior "Welcome to the Jungle"
ISN: JV Belmont Bulldogs Football Claim Berth To BC Provincial Championships
Burnaby Now: STM's season ends at hands of Rams
BC Sports Hub: Subway Quarter Finals STMC vs Mount Doug Quarter Finals
North Delta Reporter:Surrey's Holy Cross a win away from provincial football championship game
ISN: JV Bulldogs Football Maul Competition On Way To Provincial Semi-Finals
Nanaimo News Bulletin: Barsby Bulldogs bite GW Graham in high school football playoffs
New Westminster Record: Hyacks sail past Panthers into semifinals
Delta Optimist: Sun Devils season over in 67 seconds
Victoria Times Colonist: Mount Doug powers to BC boys AAA football semis
Abbotsford News: Bateman Timberwolves advance to AA final four
The Province: High school update: Terry Fox and New West rematch comes in football semis
CKPGToday: Quarterfinals-Bound: Polars Off To BC Place
Prince George Citizen: Polars season ends in loss to Holy Cross
Tri City News: Ravens pluck QB magic from JV again
Delta Optimist: Devils off to BC Place for reach with Irish
Tri City News: Terry Fox ready for Jugglers
Nanaimo News Bulletin: Barsby juniors win big, advance to semifinals
Vernon Morning Star: Vernon Panthers ready for Ballenas
The Province: Lord Tweedsmuir Panthers learning how to be No. 1 with a bull's-eye
New Westminster Record: Win propels Hyacks into underdog role against Panthers
North Shore News: Dukes charge into provincial quarterfinals
BC Sports Hub: Notre Dame Vs. WJ Mouat First Round Playoffs!! Playoff Wildcard Round 1 - South Delta vs Mission
Nanaimo News Bulletin: Barsby juniors win big, advance to semifinals