Local News Links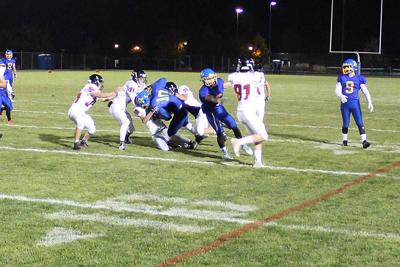 Kelowna Daily Courier: Voodoos' defence weaves some magic on gridiron
Vernon Morning Star: Fulton Maroons stuff Kelowna rivals
Cloverdale Reporter: Lord Tweedsmuir downs Seaquam in high school football
Kelowna Daily Courier: KSS finally runs free—really free
Tri City News: Centaurs soccer goalie gets her kicks on football field
ISN: Rams Dominate Bulldogs In BCSSFB Friday Night Football
BC Sports Hub: Abbotsford Panthers aiming to claw their way to the Subway Bowl
Mission City Record: Mission Roadrunners senior football squad rushes to victory
Kamloops This Week: Blue Wave get to win column, Titans fall to Panthers
Prince George Ciitizen: Condors take off against Cougars in Junior Varsity football action
Abbotsford News: W.J. Mouat Hawks open season with win
BC Sports Hub: Earl Marriott vs West Vancouver
Cloverdale Reporter: Surrey's Tweedsmuir Panthers look to top unbeaten Seaquam in AAA Varsity football action
Delta Optimist: SDSS Grad earns Canada West honours
Cloverdale Reporter: Lord Tweedsmuir roars in win over Abbotsford
Kelowna Capital News: Vernon Panthers roll past Salmon Arm Golds
Prince George Citizen: Cougars top Roadrunners to open Double-A Varsity football season
ISN: Varsity Bulldogs Still Looking For Some Bite In Loss To Irish
Kamloops This Week: South Kamloops Titans get best of Maroons under the lights
Delta Optimist: Dennison dominance continues for Sun Devils
Prince George Citizen: Cougars top Roadrunners to open Double-A Varsity football season
Kamloops This Week: South KamloopsTitan's quest for playoffs runs through Maroons
ISN: BC Football Hall of Fame Class of 2019
Mission City Record: Mission Roadrunners blanked by Seaquam at home
The Abbotsford News: Abbotsford Panthers continue undefeated run
Vernon Morning Star: Vernon Panthers sink Blue Wave
The Province: Steve Ewen: Veteran coach feels strange start, pigskin parity rare in high school
Prince George Citizen: Double A varsity football season starts Saturday
Kamloops This Week: South Kamloops Titans get wake-up call ahead of gridiron home opener
Burnaby Now: Knights QB hits targets in win over Fox
Abbotsford News: Abbotsford Panthers continue undefeated run
Kelowna Now: Owls, Voodoos living up to high expectations
Delta Optimist: Road to first place finish becoming clearer for Sun Devils
New Westminster Record: Long runs lead Hyacks past Jugglers
Langley Advance Times: Langley Secondary Saints storm over AAA football opposition
Cloverdale Reporter: Cloverdale's Lord Tweedsmuir Panthers fall to Kelowna Owls
North Delta Reporter: PHOTOS: Holy Cross wins on home turf as Lord Tweedsmuir stumbles
Tri City News: Tough weekend for Ravens, Centaurs
ISN: Varsity Rams Lose A Tough One To Vancouver college
North Delta Reporter: Versatile Meurrens key to Earl Marriott football success
Vernon Morning Star: Vernon Panthers blank city rivals Fulton
Kamloops This Week: South Kamloops senior football team cracks top five in province
New Westminster Record: Hyacks put brakes on Rams run
Delta Optimist: Undefeated JV Sun Devils growing in numbers and confidence
Mission City Record: Mission Roadrunners open season with loss
The Province: McDonald loves his football, lacrosse, but is playing both realistic?
Prince George Citizen: Roadrunners top Polars in B.C. High School Football exhibition
Kelowna Now: Owls, Voodoos tackle different gridiron challenges
Burnaby Now: Healthy backs help lift Knights past Roadrunners
ISN: JV Bulldogs Football Find Winning Touch Over Islanders
Chilliwack Progress: Sardis football Falcons beat Nanaimo District to stay unbeaten
Kamloops This Week: South Kamloops Titans stand tall
Delta Optimist: JV Sun Devils growing in wins and numbers
Surrey Now Leader: Lord Tweedsmuir Panthers head home on a high after 27-0 win over Terry Fox
North Shore News: Carson Graham wins big in Buchanan Bowl
Delta Optimist: Defence leads Sun Devils past top rankedVancouver College
ISN: Hyacks Hurdle Rams To Season-Opening Win In BC High School Football Action
BC Sports Hub: Mount Douglas Rams looking to reach the mountaintop again with repeat Subway Bowl championship
Tri City News: Centennial wins, Fox loses
Kelowna Now: Football Owls dominate in regular-season preview
Abbotsford News: Abbotsford Panthers celebrate 35th anniversary of title with win
BC Sports Hub: Robert Bateman vs WJ Mouat — BC High School Football
BC Sports Hub: New West vs GW Graham
Prince George Citizen: Big football crown raises Cougars' spirits
Burnaby Now: Injuries KO Knights in battle with No 1 ranked college
New Westminster Record: Hyack rushers cut through rain, Grizzlies in first win of the season
North Shore News: Carson Graham takes on Argyle in senior football (PHOTOS)
ISN: Mount Douglas Varsity Summary
Vernon Morning Star: Roaring start carries Vernon Panthers to victory
North Shore News: High school football kicks off today on the north shore
Delta Optimist: Sun Devils shine in battle of Delta
Twitter: New Westminster Hyacks Homecoming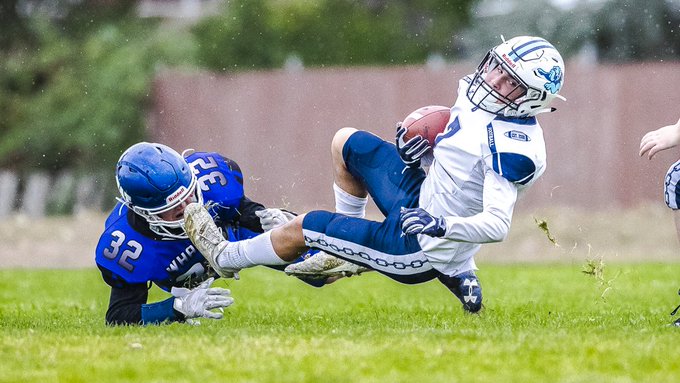 All Sports Media: Shots from Ballenas Belmont
Vernon Morning Star: Vernon Panthers claw past competition
Kelowna Now: Voodoos-Owls eager for football clash on Friday
Burnaby Now: Knights defence the shinning light in opening loss
New Westminster Record: Miscues mark Hyacks opener
Delta Optimist: Unbeaten Dinos roll into UBC with plenty of Sun Devil flavour!
Goldstream News Gazette/Saanich News: Mount Douglas Rams charging ahead into 2019
Cloverdale Reporter: With road win, Cloverdale's Panthers leap into high school football season
Chilliwack Progress/Vernon Morning Star: VSS Panthers outlast Grizzlies 16-8
Tri City News: Centaurs speared by Whalers
Kamloops This Week: AA South Kamloops defeat AAA Mt Boucherie in football action
Delta Optimist: Sun Devils looking right at home at Dennison
ISN: Varsity Rams Start BC High School Football Pre-Season With Loss
The Province: Being preseason top dog means very little to V